A Successful Summer at Barnard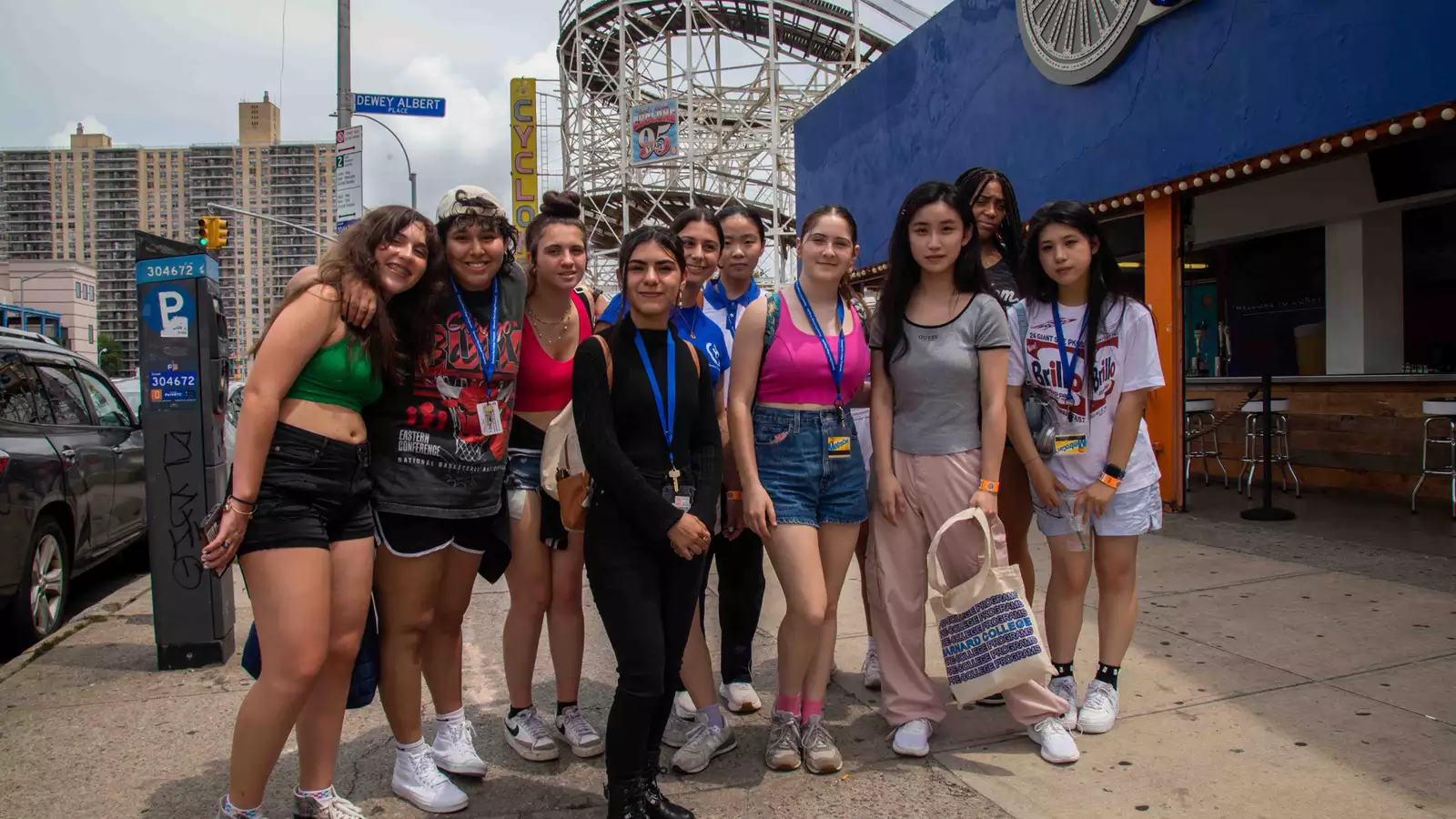 Each year, after the bulk of students have left campus, Barnard offers intensive and exciting opportunities for hundreds of younger students to grow as leaders, scholars, and entrepreneurs. For nearly 40 summers, Barnard's Pre-College Programs (PCP) has helped high school students build new skills and learn about collegiate life. At the same time, the College's ever-growing Summer Research Institute (SRI) — launched nine years ago — provides financial and programmatic support for Barnard students conducting STEM research under the direction of a faculty mentor.
During PCP and SRI this summer, nearly 900 students — the largest combined program size to date — acquired hands-on research experiences, strengthened leadership skills, attended lectures and programs, and built a dynamic community. 
Gaining Leadership Skills for College and Beyond 
Whether a high school-aged scholar is interested in filmmaking, acting, activism, art, leadership, STEM, or writing, Barnard's PCP allows them to grow their community and explore opportunities academically and creatively in the heart of New York City.
"This year, Pre-College returned to campus in a big way, with over 550 students in attendance. We continued to build program offerings that speak to the heart of what is going on in the world," said Aleschia Velasquez, executive director of Summer at Barnard. "We were especially excited for our two newest programs — the Summer Food Institute, led by our Office of Sustainability & Climate Action, and our Health and Society Institute, which allowed our students to explore topics covered through our medical anthropology major."
PCP collaborated with the Athena Center for Leadership, which hosts its own series of summer programming for current and pre-college students.
"Each of our summer programs aims to help students widen their thinking about leadership, deepen their connection to their communities and NYC through intentional partnership and collaboration, and gain practical skills they can implement immediately," said Umbreen Bhatti '00, Constance Hess Williams '66 Director of the Athena Center for Leadership.
For budding entrepreneurs, the Athena Summer Innovation Institute (ASII) is the place to be. Over the course of three weeks, high school students worked in teams to produce a new venture — a startup business, nonprofit organization, or advocacy campaign — that is creative and impactful. ASII is successful for its wide range of programming, intentionally designed for students who are on the brink of college — or on the brink of realizing their leadership goals. 
"I didn't realize how quickly an idea can turn into a tangible product that we feel comfortable showing off to our peers and mentors, just over the span of a few weeks," said Penny Blondeau, from New Orleans.
On August 1, students toured the Hanky Panky factory and showroom of co-creator Lida Orzeck '68, participating in a rare opportunity to see the behind-the-scenes machinations of a $100 million company.
"We learned every step of how these undergarments are made, from the fabrics being delivered to the industry to the fabrics being exported," said Ava Swinton, from Bergen County, New Jersey. "It was helpful to see how many steps it takes to create all of these incredible products [and] how many people are involved."
Soaring Through a STEM Summer
As one of NYC's largest gatherings dedicated to young women scientists, Barnard's SRI has broken its own size record every year since it launched in 2014 with 124 students. Less than a decade later, the 10-week program has grown a whopping 263%. This summer's SRI brought together 327 students and 215 mentors from Barnard, Columbia, and other organizations around the City.
"We are supporting more students who are working across the street at Columbia or at universities like NYU," said professor of psychology Koleen McCrink, who co-directs SRI with associate professor of chemistry Marisa C. Buzzeo '01. "We've widened the program to be inclusive of all STEM majors, and now computer science, cognitive science, and mathematics majors are eligible to participate. SRI is a key steppingstone to graduate school in the sciences, and students are aware of that." 
The faculty-led initiative — of which Beyond Barnard has managed the administration and logistics since 2018 — offers students a $6,000 summer stipend, access to subsidized on-campus housing, and mentorship from science leaders across fields. In total, the College invested $2.2 million this summer to facilitate the program.
The individual programs that together comprise SRI have also expanded, with 28 scholars from the Science Pathways Scholars Program (SP)² and E(SP)², the latter of which is funded by the National Science Foundation (NSF). Five students were supported by Columbia University Irving Medical Center (CUIMC), and three, for the first time, by the New Pathways Bridgewater Scholars Program. 
"Following your passion is hard to do without knowing what goes into that passion, and the SRI funding and infrastructure provides that for students who otherwise may have had to focus on paid, nonresearch experiences over the summer," said McCrink.
In many cases, SRI not only gives students the opportunity to experience full-time research for the first time but also provides resources for them to grow over multiple summers. Seventy-five students are second-time participants; for 20 students, it's their third time back. Biochemistry major Tierani Green '24, who is studying a protein found in bacteria that has the ability to transform alkanes — which can be applicable to cleaning up oil spills — has attended every year since her first year at Barnard. 
"Learning chemistry in a classroom and then applying [it] feel like two completely different things," said Green, who added that she "really appreciated how we can have a helpful impact on the environment."
Green also expressed gratitude for her mentor Rachel Narehood Austin, Diana T. and P. Roy Vagelos Professor of Chemistry, with whom she has worked during all three years of her time at SRI. And her confidence has increased because of it. 
"Tierani has grown into an extremely competent scientist who now commands one whole branch of my lab and is even training the new technician that I hired," said Austin, who mentored six student scientists this summer. "It's not about whether they learn any specific set of facts but whether they enjoy the process of being a scientist. The opportunity to work in a lab that has only women in it provides a culture that's supportive, encouraging, and empowering." 
In addition to the lab work, Beyond Barnard and the SRI Committee facilitate opportunities for students to socialize outside of the lab — there were food trucks and a Midsummer Barbecue — along with career workshops hosted by Beyond Barnard and poster prep sessions with the Writing and Science Fellows. 
As part of the summer's ongoing enrichment opportunities, Roberta Schwartz '91, Houston Methodist Hospital's executive vice president and chief innovation officer, presented the Alexander Science Lecture, sponsored by the Norman E. Alexander Family G Foundation, Gail Alexander Binderman '62, president. Schwartz shared her experience of managing the hospital through the pandemic, discussed the future of medicine, and considered how technology and science interact. The ability to experience so many different intellectual avenues and to be in direct discussion with experts are key ingredients of what makes SRI special.
"I am personally excited about starting new projects in my laboratory with SRI students," said McCrink. "There's nothing like seeing students overcome the challenges that go into knowledge generation." 
More Summer at Barnard Stories