Columbia DivHacks - October 23-25, 2020
Computer Science at Barnard College and the Vagelos Computational Science Center are proud sponsors of the Fall 2020 Diversity Hackathon (DivHacks) on October 23-25, 2020. DivHacks is Columbia University's only student-led diversity hackathon, centered around celebrating underrepresented students in tech and entrepreneurship. 
This year, for the first time ever, we are happy to offer 36 hours of hacking, workshops, speakers, prizes and swag shipped right to your doorstep! We will have workshops and prizes for hackers of all levels and especially want to extend an invitation to beginner hackers. Join us *virtually* in reshaping the tech industry! 
Learn more at www.columbiadivhacks.com 
If you have any questions, please contact us at cu.divhacks@gmail.com
Barnard BEARS: Better, Enhance, and Advance Research Series
Image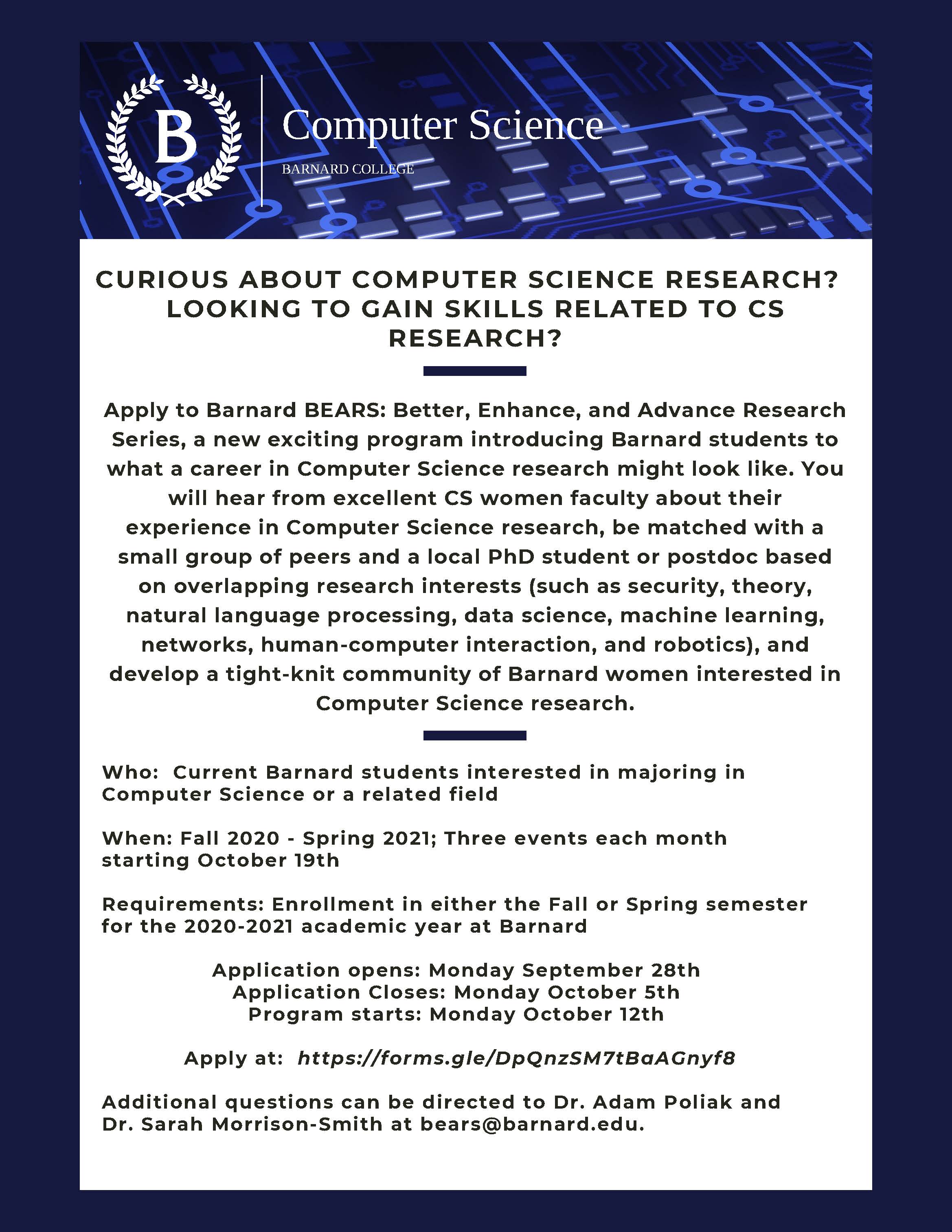 Curious about computer science research? Looking to gain skills related to CS Research?
Apply to Barnard BEARS: Better, Enhance, and Advance Research Series, a new exciting program introducing Barnard students to what a career in Computer Science research might look like. You will hear from excellent CS women faculty about their experience in Computer Science research, be matched with a small group of peers and a local PhD student or postdoc based on overlapping research interests (such as security, theory, natural language processing, data science, machine learning, networks, human-computer interaction, and robotics), and develop a tight-knit community of Barnard women interested in Computer Science research.
Barnard Summer Research Institute (SRI)
The SRI (Summer Research Institute) is a 10-week program for Barnard students to conduct scientific research in Biology, Chemistry, Computer Science, Environmental Science, Neuroscience, Physics, or Psychology during the summer. You can work with faculty at Barnard, Columbia, elsewhere in the city, and beyond.

If you are interested in doing this research over the summer, you will need to fill out the interest form by January 31, 2020.  See https://barnard.edu/summer-research-institute. For questions not answered on the website, please email sri@barnard.edu. 
Fall 2019 Diversity Hackathon
Computer Science at Barnard and the Vagelos Computational Science Center, in collaboration with Columbia University Womxn in Computer Science, are hosting DivHacks on October 5th from 8 am to 9 pm at Barnard College in the Milstein Center. DivHacks is Columbia's premier diversity hackathon with an objective to create an empowering and inspirational space for underrepresented students in entrepreneurship and technology. For too long, the technology sector has prioritized the voices of the privileged at the expense of diverse peoples and points of view.
DivHacks introduces a space for disenfranchised communities to create technologies that reflect our diverse backgrounds and narratives. This year the theme is education for all! DivHacks is open to everyone regardless of gender or experience. Please register in advance at https://divhackscu.github.io/